Hi,
Thanks for dropping by. This page is intended to be a portal to IMAC, Freestyle & 3D in Scotland with links to other information. Web sites of interest are HighAlpha , http://imacuk.org/ and http://www.mini-iac.com/
There are no pre-arranged events in Scotland at the moment apart from the IMAC-UK event at Castle Kennedy but any short-notice / ad-hoc events will be notified on Facebook page https://www.facebook.com/groups/733780607406350
Videos: click to play:
2020 Reports:
Nothing to report so far except for the UK Freestyle Masters which will take placve on September 12th / 13th.
2019 Reports:
Dan Gallo's qualifying round at the 2019 UK Freestyle Masters: https://youtu.be/7du1QOM1HXc
The Scottish round of the British IMAC league moved location this year from the normal Castle Kenney airfield to the Glenluce and Galloway Fliers ( http://www.glenluceandgallowayflyers.co.uk/ ) site at Glenluce. This is a very welcoming club so if you are ever in the area then drop in for a chat. Here is Dan Gallo at a recent visit: https://www.youtube.com/watch?v=ue5fpcOOtQI
The comp itself had an entry of 10 pilots over the 4 classes covering the country from Peterhead to Bournemouth. The usual format was followed and due to the fantastic weather an impressive 7 rounds of the published schedule were flown plus 1 "Unknown" on the Sunday morning (no practice allowed). Four pilots took part in the "Freestyle" comp which is a 4-minute "own-design-to-music" flight. The tightest competition was for 1st place in the Intermediate class, with only 4.8 points difference between Richard Badham and Dave Staley. Dan Gallo from the Angus club took 1st place in the Freestyle comp.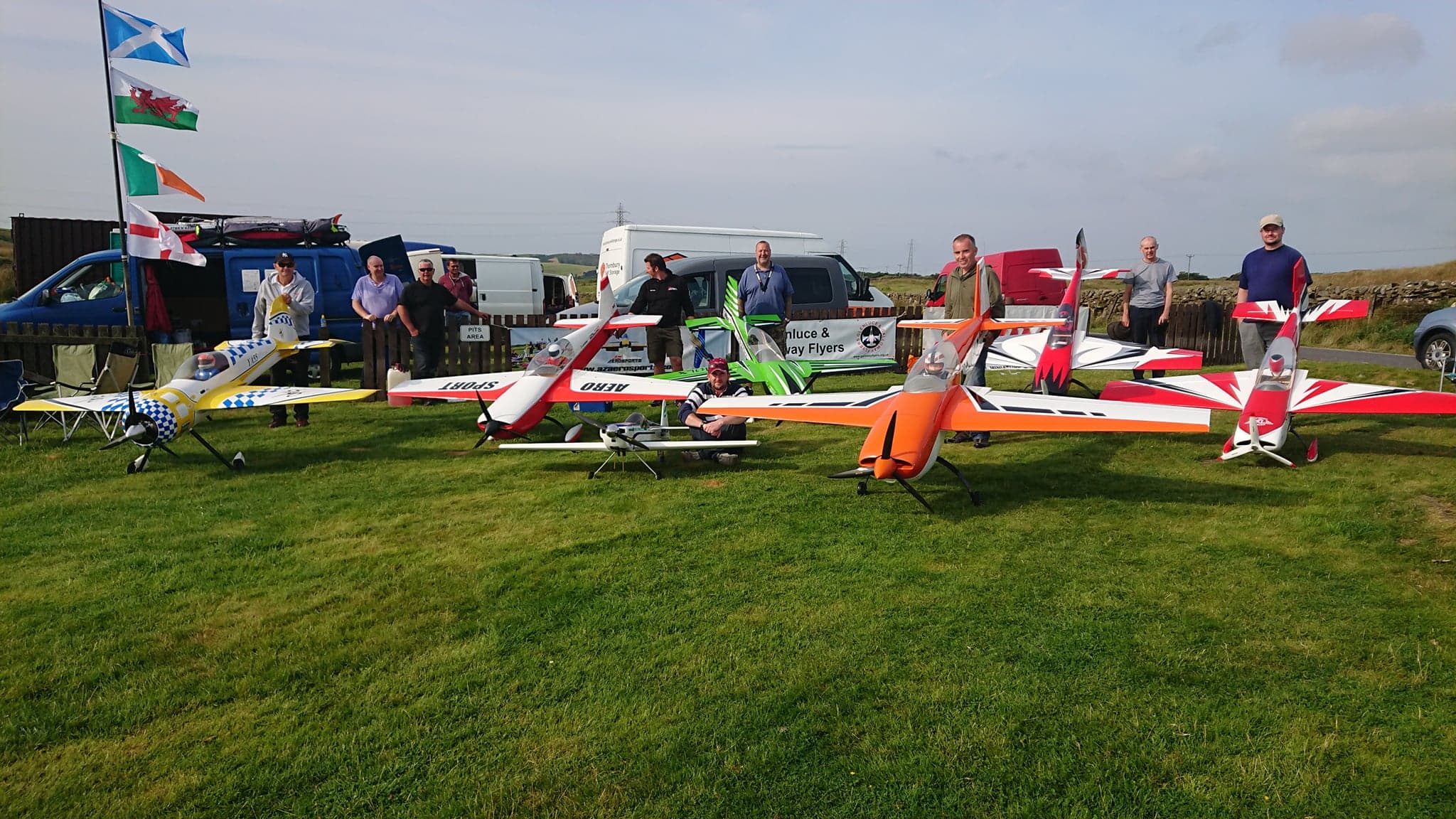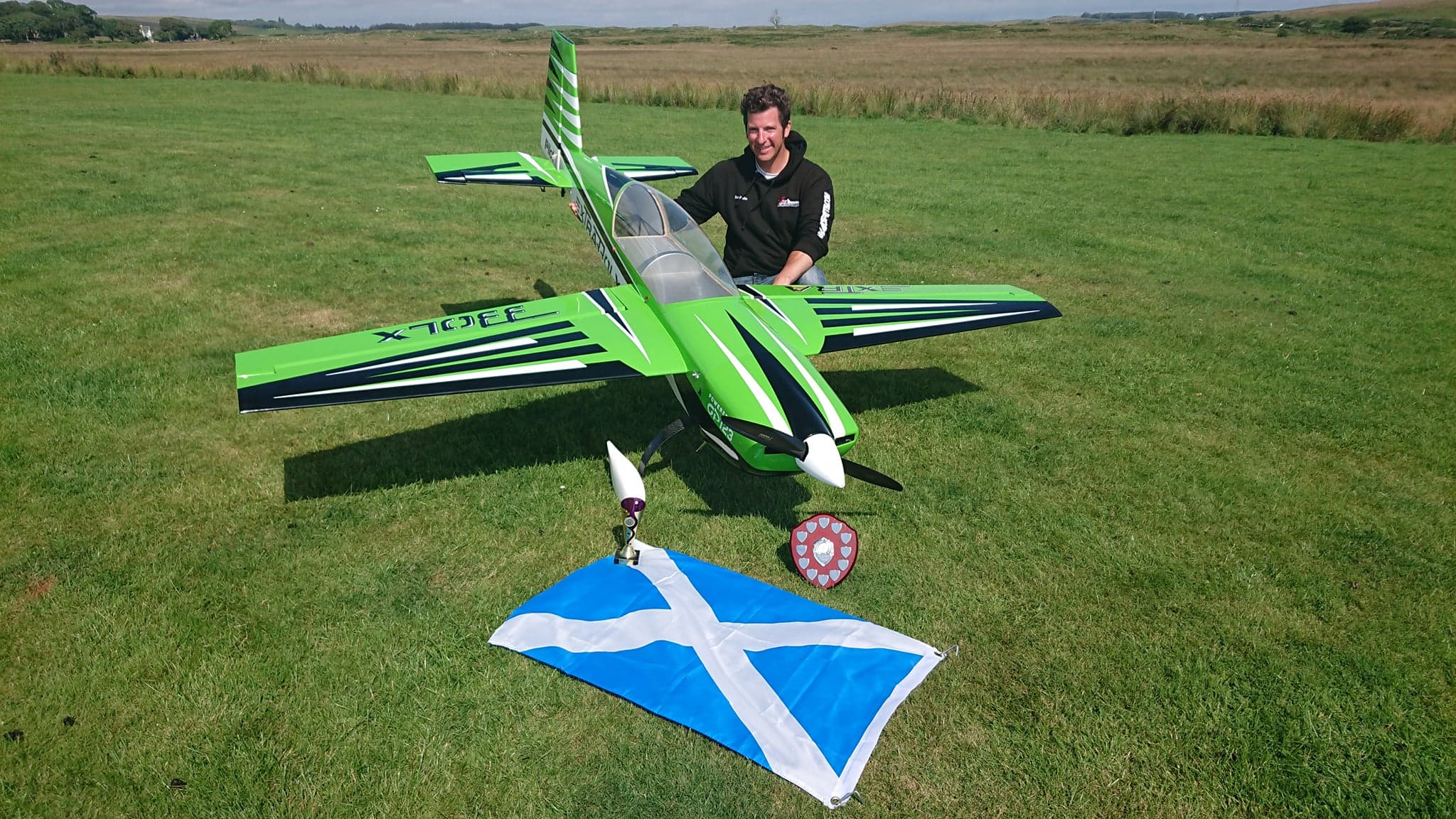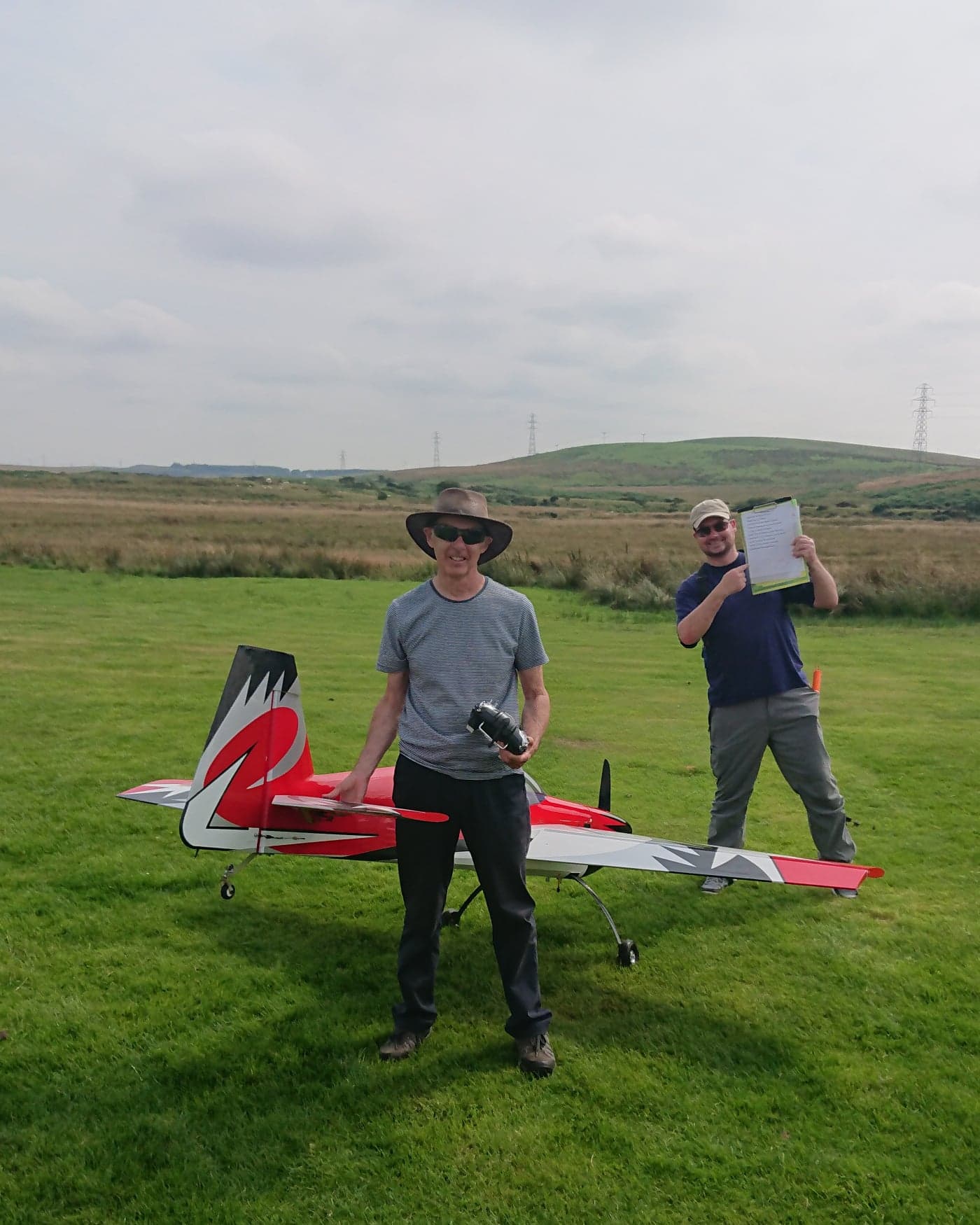 2018 Reports:
The 2018 season for scale aerobatics has come to an end and it has been an enjoyable one, with some good flying in typically tough conditions at the contests. The final contest of the IMAC tour was the British Nationals on the last weekend in August. We had flying on two out of the three days (rain and wind on the Sunday) which was enough to run a proper contest. Normally two unknowns are flown at the Nationals, but this time only one unknown round was flown due to the weather. It was a particularly difficult sequence to fly this time in unlimited class. Most pilots did a fine job flying their unknown in all classes. A few Scottish pilots came to the event: Angus Balfour (who won the overall contest), his brother Malcolm, and Alistair Bell. Justin Meadows also went to fly in f3a, not to mention the support from members of Angus Model Flying Club who came along to the overall contest. One round of freestyle was flown in relatively windy conditions, but it was fun all the same. A good selection of models were being used for IMAC with equally different capacity engines. AJ Aircraft 50cc ARS 300, 100-120cc EF Extras and Sebart Sukhois, up to 3.1M Extras and Yaks with 170 - 200cc motors. DLE and Desert Aircraft motors being the most popular. If anyone is interested in flying precision aerobatics with a scale-ish model then visit the IMAC UK website www.imacuk.org or visit the IMAC UK Facebook page. Here you will find out more about what we're all about. The 2019 UK tour is being planned at present and the new sequences from the IMAC USA sequence committee will be issued over the next month or two, so looking forward to flying those when they come out. The photos here are from the British Nationals.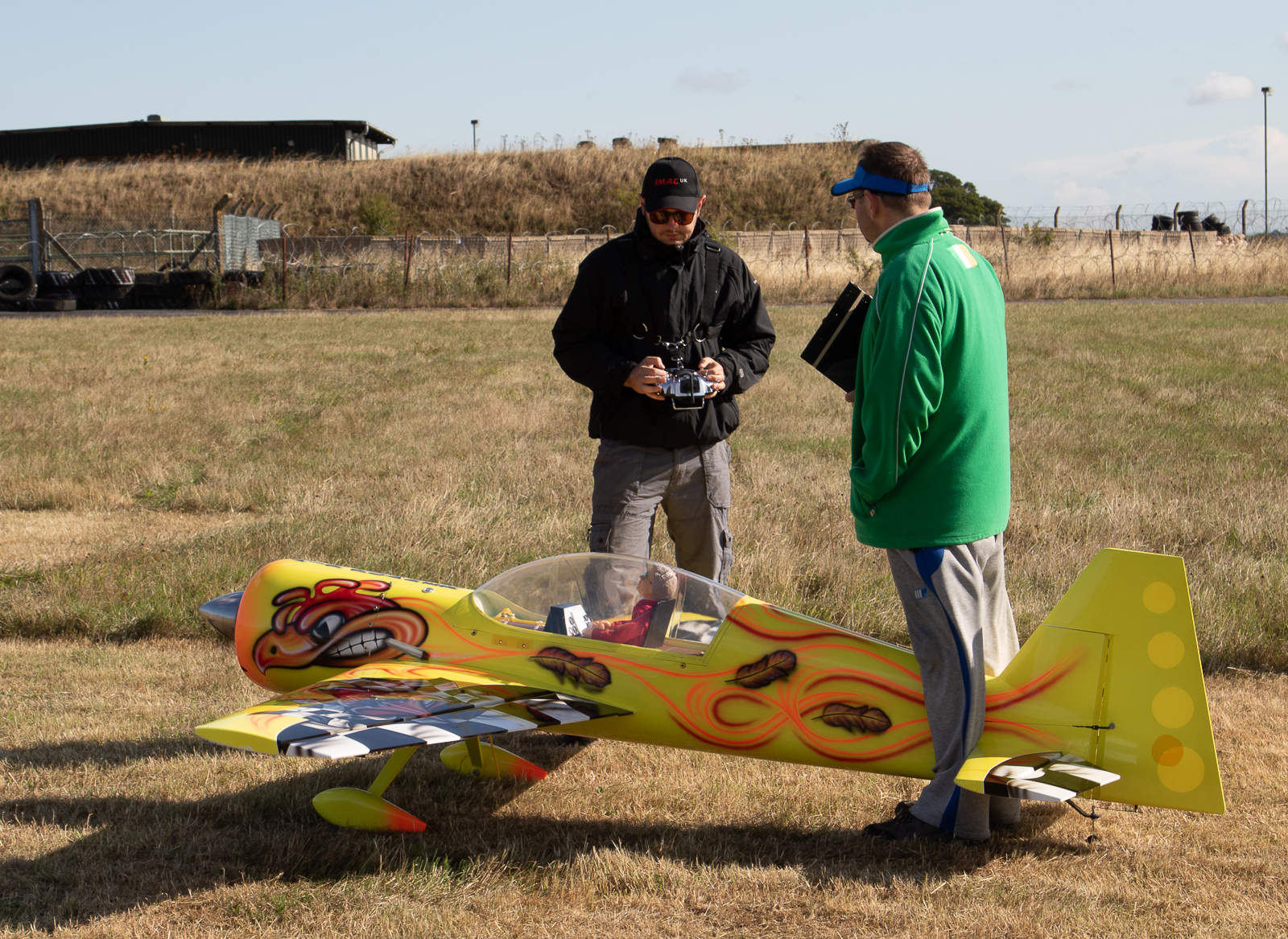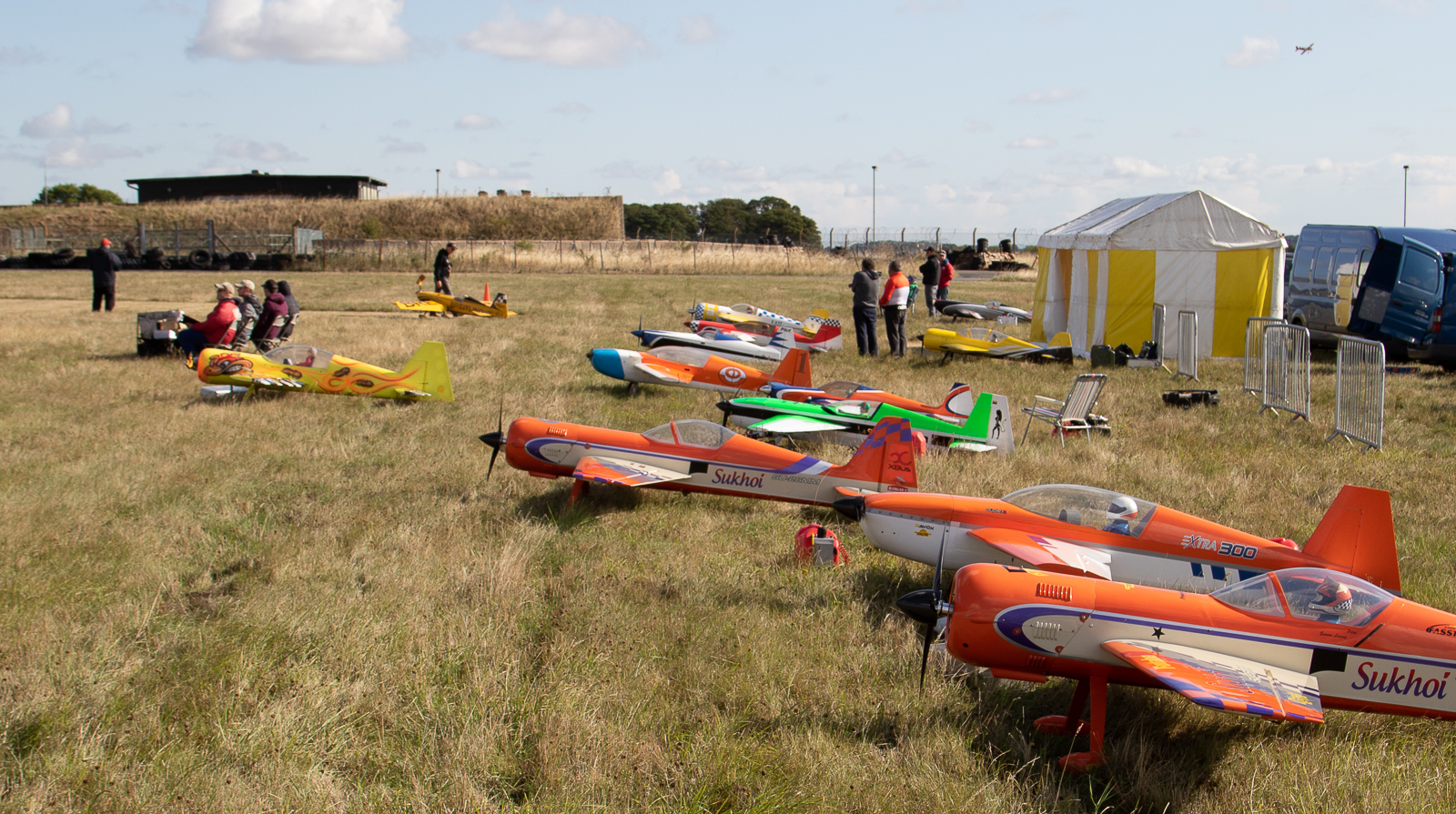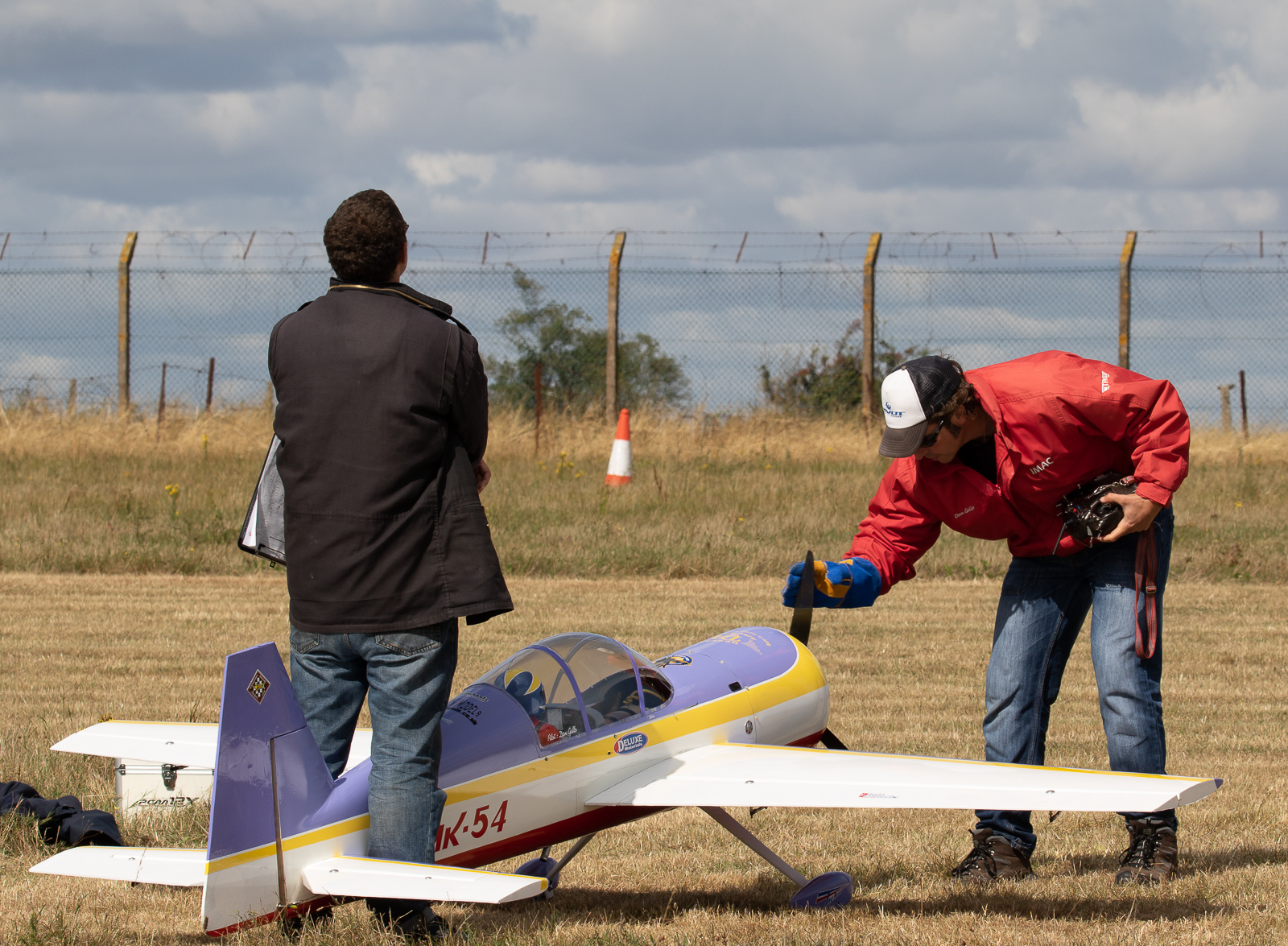 2013 Reports:
We finally got a day out at Glenluce, but as it was VERY short notice, there were very few visitors. However, the weather was fantastic and the flying was awesome. Ally had his Edge back in the air and Murray had come on leaps & bounds since the last event.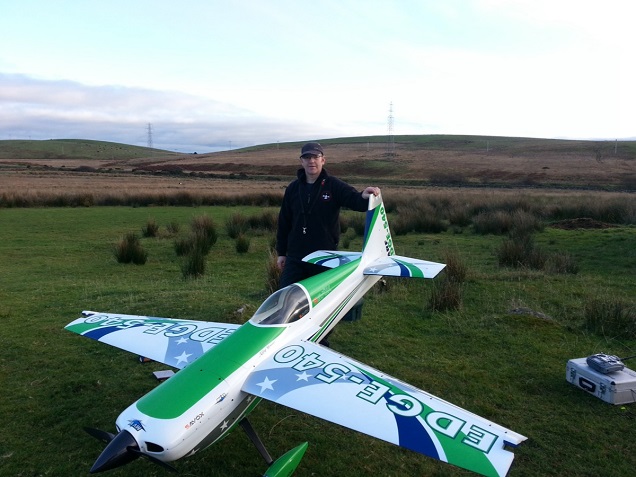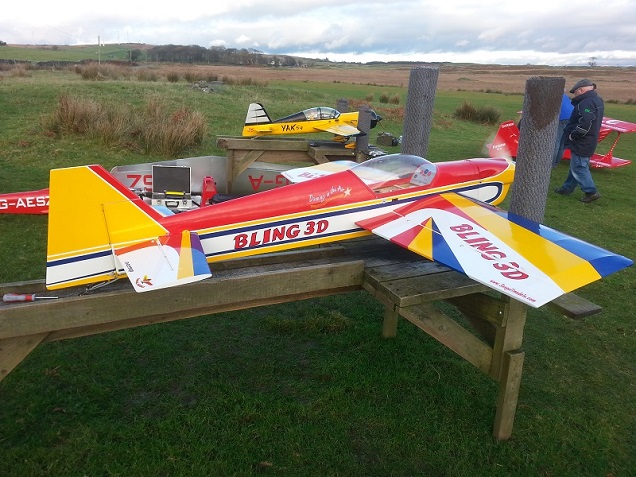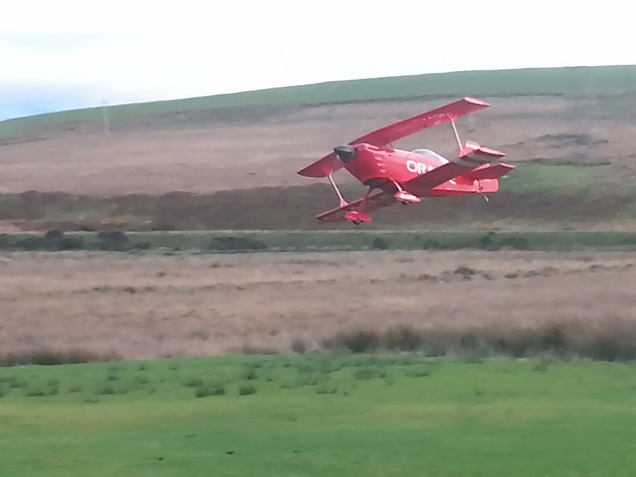 Maybole:
This had been a pretty poor year with 3 events already cancelled due to the weather and the forecast was not particularity appealing leading up to the event at Maybole, home of the Ayr & District Fliers. The day started off well enough but low cloud and rain from Glasgow down to Prestwick was not a good indication of things to come. However the flying did get started with Bill Cameron and his YS120 powered Spitfire making the1st flight of the day, closely followed by some of the visiting smaller electric models. A couple of the 50cc models took to the air but low cloud was not in their favour and flying was postponed until later.
The Ayr & District Fliers had promised a barbeque and this was fired up inside the gazebo providing some much needed shelter, warmth and some great food. A very big thank you to James Stewart for all the communication and organising, and to Donald Smith, Robert Crossan & James for manning the BBQ, and a huge thank you to the club members for allowing us to come along for the day; it was very much appreciated and a great time was had.
The lull in the flying was put to good use with Ally holding a Battery Masterclass, explaining the differences in battery composition and which ones are best suited to coping with the sudden and massive current delivery requirements when dealing with 6 or more powerful servos acting concurrently. This was taken on board with one pilot leaving his model on the ground until upgraded batteries were fitted. Further help and advice was forthcoming on inverted spins and when to mix full rudder with zero throttle (e.g. for stall turns).
It was great to see some new faces (Ewan Maxwell with a Precision Aerobatics Edge 540T & DA50R) and Mike McCracken with Goldwing Extra 260 & 3W50), and David Morackas (Ayr & District) with a couple of fantastic own-designs, one with a DLE55RA up front. The usual suspects comprised Ally Young (RC Pilot Yak with DLE55 & Sebart Sukhoi 29 with an MVVS116 twin up front), his son Murray who brought along his Seb Shark and got a few flights in over the day, Neil Chadderton with his Pilot RC Extra 300 with DLE55 and myself with my Pilot RC Extra 300 with DLE55 & AS Power cannister.
At 1:30 the rain cleared and some decent flying was able to get underway with everyone getting enough flying to keep them happy. I finally got the chance with a fair bit of encouragement and help to get the maiden flight done with my Extra 300 at last. Club member David Morakas put on a spirited display with one of his own-design models and Jim Dunlop put on an exciting flight with his Wot4.
So altogether not a bad day although numbers were a bit down. Simon & Chris were working so missed the event, Richard was unable to make it & Iain, Alistair & Stephen were also unable to make this one.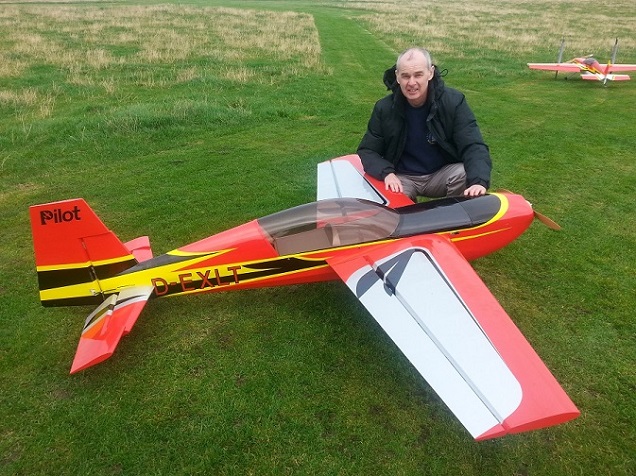 Scottish IMAC round, Castle Kennedy, May 2012 (report & pictures)
2009 Reports:
Glenluce: http://www.highalpha.org/forum/viewtopic.php?f=15&t=2231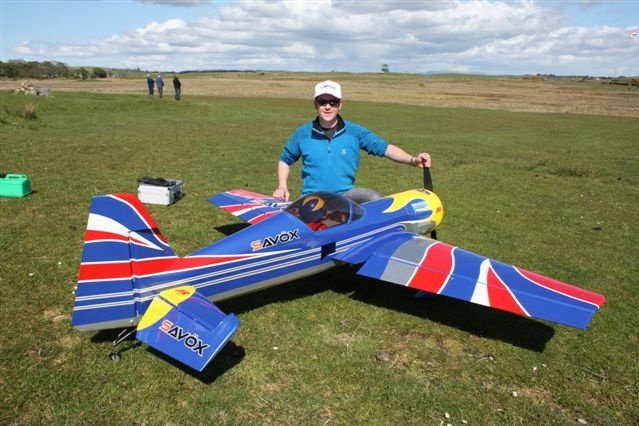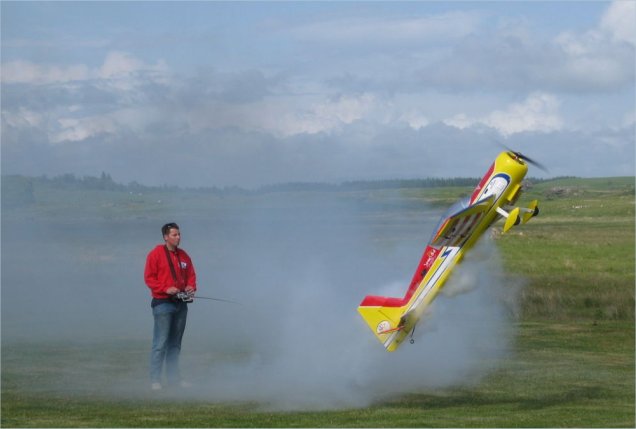 West Calder: http://www.highalpha.org/forum/viewtopic.php?f=15&t=3031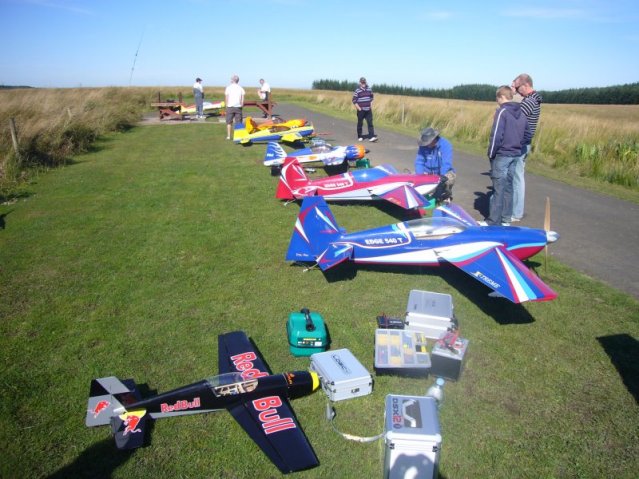 Tarbolton:
11 pilots in total turned up for the day, and were supported by a number of BCF members who came along for the day to watch and help. The site was once again in excellent condition being freshly mown the day before. It is great to see this site improve year on year, and the addition of the spectator seats made life a lot easier than before.
Safety was once again very much to the forefront with numerous people being shepherded away from the propeller arc, the "ready" box being used for starting, and helpers being used for every start, even on the small models.
The weather was great with plenty of sunshine and the wind almost straight down the runway.
Ally Young opened proceedings with his Saito 82 powered Twister and followed with the Python (DA50). Steven Nicol, one of Scotland 's young hot prospects, gave a great performance with his dad's ZDZ100 Yak 54 (his own had stripped a servo that morning). All pilots (Alastair, Iain and Steven Nicol, Ally, Richard Copeland, Simon McNeil, Bill Brown, Jim Ewan, Chris Currie, Steven Currie) seemed to enjoy the day with plenty of great flying.
In conclusion we would like to thank BCF for their hospitality and look forward to our next visit.
Tom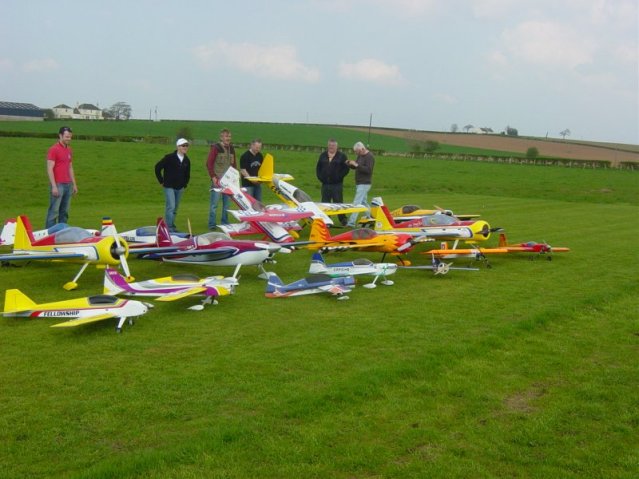 2008 Pix
Tarbolton 2008: http://picasaweb.google.co.uk/scottishflier/Tarbolton_3d_2008#
West Calder 2008: http://picasaweb.google.co.uk/scottishflier/Westcalder_3d_2008#
2007 Pictures:
http://picasaweb.google.co.uk/scottishflier (West Calder and Dallachy)
http://www.saaweb.org.uk/yabbse/index.php?topic=742.0 (Stranraer)
http://picasaweb.google.com/futabaflier/WestCalder080907
http://picasaweb.google.com/buchanan.gordon
2006 pictures:
http://www.modelclub.org/3d2006/index.html (West Calder)
3D 2007 Review (Ally Young & Tom Laird)
Intro
Following the inaugural event at West Calder in September 2006, Ally & I decided to arrange 3 events for 2007, one in the South, 1 in the North and 1 in the middle. We approached three clubs (Stranraer, Dallachy, and West Calder) to see if they would support us, and having got the go-ahead, published the dates. I need to re-iterate that these events are non-SAA and simply a couple of guys trying to promote this aspect of the sport. The general strategy is to have a mix of established fliers who can meet up every once in a while and show what they can do, and beginners who can get help and advice. All fliers are SAA or BMFA and Tx control is adhered to, either via the host club's pegboard or by a Tx pound in the back of a car or can.
Saturday 28th April at Stranraer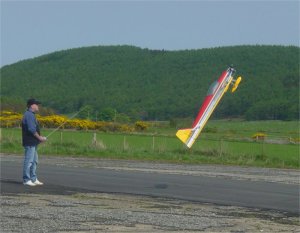 We had approx 20 pilots for the day, including 1 all the way down from Elgin, and Nigel Buress from Carlise - hope to see you next year Nigel - bring a few mates . The weather was great and I think everyone had a great time. We had an F3A demo at lunchtime and I can see an IMAC interest emerging so we will probably see some of that in future as well. Ally brought along a generator, radio mic and speaker so we were able to get good commentary on what was going on. Ally also gave a talk on the set up for a 3D plane including hints on the radio set up. Although we had a selection of music, no-one used it at this event. Tx Control was in operation and all trannies handed in to the pound for safety. We would like to take this opportunity to thank the Stranraer club for the use of their site.
Saturday 28th July at Dallachy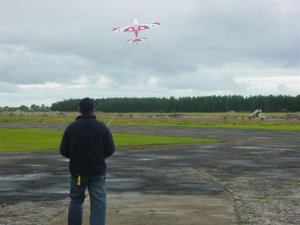 Dallachy from the Forth Road Bridge took me 3 hours via Aberdeen. It is motorway and dual-carriageway almost to Inverurie then a good "A" class road the remainder. A very stress free run. We had about 30 to 35 people turn up on Saturday but only about a dozen or so flew. The wind was pretty horrible, probably about 20mph straight in your face. I think the forecast kept folk away. Fliers included Grant Darnley, myself, Gordon Buchanan, Ally Young who flew his Extra, Richard Copeland flew his Bling, and I'm sure Stevie Wilson flew, but I left the pilots list at Tx control so can't remember anyone else. Sunday was the Jet day. Alastair Sutherland (Rookie 2) and Darren (Super Reaper) flew their jets fantastically well considering the weather was probably worse than Saturday, and Ally & Stevie entertained the crowd with the Magnum to great effect. Myself, Lindsay Dickie, Willie Young and Mick Henderson made up the rest of the pilots. In all 15 aircraft turned up, 5 being jets. This was a great weekend and I'll be heading back up next year if it on. Again the use of the site for the Saturday was much appreciated, as were the burgers (I bet you don't get many of them to a cow).
Saturday 8th September at West Calder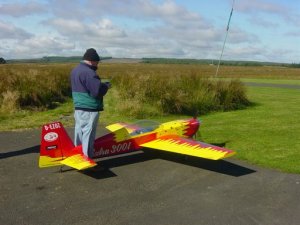 Another great event with special thanks to Jim McGlynn who cut the grass, and to Gordon Buchanan for organising the genny and music. Flying to Enya, or Pirates of the Caribbean is great fun but not everyone's cup of tea so consideration is required. We hit the jackpot in terms of sunshine. It was wall to wall blue sky for most of the day but we had an interesting wind which changed direction between take off and landing. Again we had a great turn out of both established fliers from Aberdeen down to Stranraer but not too many beginners this time. The furthest traveled was George Korynta from Prague who saw the advert before he left, but since he was on holiday he had nothing to fly. In total we had 19 visitors, 16 of whom were fliers. This was supplemented by a dozen or so club members and a few passers by. The flying was awesome (I'm not going to mention anyone in particular, but the 150cc TOC Extra was some piece of kit), and there are links to the pix on the SAA web site on the "Events" section of the forum. Bill Cameron went away happy after Steve Currie spent some time setting up his Yak, and George Petrie got his OTOP's engine running better with some help from Iain Nicol. A couple of us got in some Gold practice and received good feedback from Alistair Nicol. TX Control was well observed with the pegboard system being used for the non-Spektrum users amongst us. To anyone who has not been to one of these events I would encourage you to come along, as you will definitely go home a better pilot than when you come, as both the safety and flying at this level is very impressive.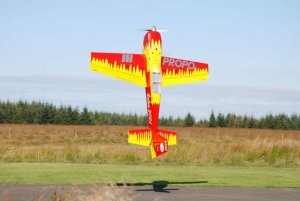 Articles & Information
How to be a Smooth Pilot (Youtube Video)
Mixing for 2 elevator servos (Ally Young)
This is what I do to mix two elevators off two channels. Set up a free mixer like this. Set elevator as the master channel and aux2 or aux 3 as the slave depending on which channels are not being used. Set the servo reverse correctly for the elevator servo so it works in the correct sense for the model. Set travel adjusts of elevator to 100% and travel adjust of aux3 to zero both ways. ( This stops the aux3 pot or switch being turned affecting the mix) When you put in the mix % the slave channel will follow even with zero travel adjust set. Set the mix to either + 100% or -100% each way depending on correct servo direction of travel for your other elevator half. If your servos are accurate and your linkage geometry are the same on each side, this will give you evenly mixed elevator halves with no danger of altering it in flight by knocking a switch or pot. You may need to fine tune either the travel adjust of the "elevator" or the % mix of the slave to get both sides equal at the extremes of travel. If you do it this way, anything you do to the elevator eg. dual rates ( even up to 125%) or exponential will automatically be added into the slave response aswell, as long as travel is the same both ways. (You can always at the start set the reverse for your slave to get the correct direction of movement.) The travel adjust % and the mix ratio % should be the same. Set at 100% initially. If you add more it can get complicated!
Lesson 1 (Ally Young)
Here are a few things to try once you get to grips with it and the engine is well run in. I'll start with the easier stuff, but some of it looks really good. You will need a rearward CG but don't let it get too twitchy. You can test it by fliping it upside down and checking that it needs almost no down elevatot to fly level. You will need a good 50 degrees plus elevator movement. Dial in atleast 40% exponential, 50% or more if you are more comfortable.
Try a Wall into end over end bunts like this. Fly along at about half throttle, level flight into wind. Chop the throttle right back and immediately bang in a bucket load of up elevator until the model literally slams into the vertical, when it is completely vertical, at the same time, add full throttle and full down elevator. It will "Bunt" end over end until you release elevator if you have enough down.
You adjust the wing tips level by small amounts of aileron. You can actually apply aileron to turn it into a sort of negative flick. (Make sure you have a bit of height to spare until you get used to what it's going to do!
Lesson 2 (Ally Young)
For the progression from your wall into forward flip / bunt the next thing is to halt the bunt when vertical and hold in a prop hang before torque rolling a few times. You can also go from the prop hang / torque rolls into inverted flat spins or upwards spins by letting the model fall onto its back in a torque roll and then applying enough down elevator and rudder to get it to start spinning. You need to keep it flat by applying a little opposite aileron. If you get the elevator and throttle right you can power spin upwards.
Knife Edge set-up (Ally Young)
Here is how to set up knife edge hands free mixing! Fly onto up wind knife edge at about half throttle max. See what rudder you need to keep it there. You should not need more than about quarter stick movement. If you need more then cg is probably too far forward. The first mix to check is the elevator. Which way does the model go when on knife edge, does it come towards you or veer away.Remember you probably auto correct it with elevator subconciously but force yourself to leave the elevator alone. That establishes direction of elevator mix required.Start by selecting a basic free mix you don't need a mix with curves etc. Select rudder as master and elevator as slave channel. Put in about 5 % elevator mix at max rudder throw. Remember to set other side to same direction you don't want opposite elevator deflection with opposite rudder direction! It is important to select the mix on a switch at first so you can check by trial and error if it is enough or not enough. When happy, select mix to "on" all the time. (You will need mix switch later for spoilerons!) When this is sorted out, adopt the same procedure with a different free mixer for rudder to aileron. Again note direction of roll with rudder and start about 5% at max rudder. The model when sorted should knife edge for ever without you having to do anything but hold a little rudder in. When sorted, start by flying long passes with the top facing you. Next push the elevator at the down wind end and let it come round belly side to you. Remember you won't have to do anything new, just keep the same rudder on and it will keep flying. Push and pull on elevator to maintain heading and adjust height with throttle. At upwind end pop more down to complete the circuit or pull a little to figure eight. Start with little wind until you get the hang of it. A knife edge circle is easier. On a knife edge pass gently feed in a little down elevator and just let it go all the way round. Simple! It helps to have a reasonable amount of expo on rudder and elevator. With 50 to 60 degree elevator travel put on atleast 30 to 50 % expo. Same on rudder. About 20 to 35 on ailerons. This keeps things smoother and stops twitching that you have to correct which used brain power which overloads leading to panic and bail out! Keep it smooth and make it look easy. There is nothing worse than a nervous twitching 3D model. It doesn't look fluid and in control. If it looks easy it probably isn't!
Introduction to 3D article (Ally Young)
Mixing for 3D article (Ally Young)
How to be an Awesome Pilot (a great and entertaining read from Troy Built Models)
More info:
http://www.3drc.info (the main UK web site)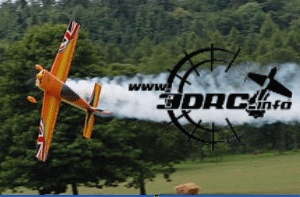 http://www.tomlaird.com/videos.htm (links to various videos)
Direction to BURNS COUNTRY FLYERS SITE AT BOGHEAD FARM TARBOLTON.
From Glasgow follow M77 to 3rd exit for Kilmarnock( Q8 ) garage for A76 Dumfries
Pass through 1 roundabout HMP Kilmarnock at 2nd roundabout take right A719 to Ayr
Follow road for approx 4 miles to signpost for Tarbolton turn left ( before steep hill )
TURN Immediately LEFT onto FAILMILL ROAD follow single track road for approx 1 mile
Site is on left at last telegraph pole.
From Dumfries through Mauchline to first roundabout take left onto A719 ,as above. NB if at Tarbolton you see a fishery you have missed the road so turn back and take road on right before major junction. Hope this is of some help in finding the site. Tarbolton is a small village and if anyone cant find the site the nearest well known landmark is (the dump) waste centre.
please note from A719 at turn for Tarbolton turn immediately left.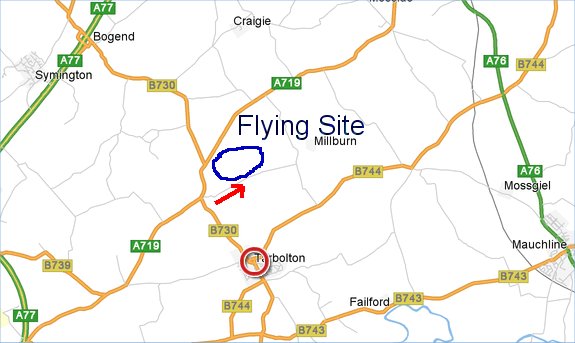 Google Maps location for Glenluce.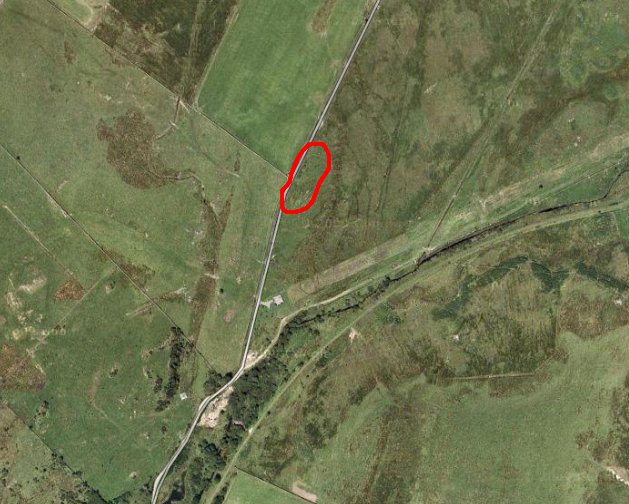 {main}