Diary of an Aerobatics Newbie

I first started flying about 20 years ago, but had a 12 year semi-break after my son was born. I got back into it about 8 years ago, first with the Linlithgow club and then with Kirknewton, and latterly with West Calder. Most of the last 5 years has been spent building the flying site, and very little on flying. I was slowly clawing my way to Silver but felt I needed more exposure to top class fliers in order to improve. Last year I asked around and managed to get a couple of other guys who were interested in aerobatics, but I wrecked my own plane and never really got started.

This year was different. Both my Excelsior and CAP232 were ready and flying well, so it was of to Hamilton in March for the first comp. Steve Currie, Elliot Balfour, Malcolm Harris, Bill Allison and a few others were there, and Colin Nicol turned up with Craig and a few of the cadets. Unfortunately a 40 MPH wind also turned up, so the event was cancelled.

Next up was the event at East Fortune. This was much better. Again, about 8 or so competitors turned up and plenty flying was on offer, even though it is one plane in the air at a time. I think it is fair to say I was shaking like a leaf on the first trimming flight with the Excelsior. However it went well and I set about round 1. Unfortunately a minor hic-up on take-off meant aborting that flight, and I flew the CAP232 for the rest of the day. I had just stiffened up all the control linkages and it took most of the day to get used to the better responses.

I had the option of flying 1 of 2 schedules – 1 has about 10 manoeuvres; the other 20. I opted for the 20 as it meant I'd be flying longer and so would improve more, and I could miss out any manoeuvres I was not comfortable with (like the double outside loop).  The thing to remember is that if you are in the wrong place then miss out the manoeuvre as there is no point in risking the model.

Bill Allison was calling for me, and the odd bit of encouragement to concentrate certainly helped. There is a maximum total of 340 points available. I think I scored about 50 (I'm not sure how many were the turning-up bonus). 3 rounds are flown at each comp.

Between flights there was plenty of time to talk to the other fliers. APC props and Yamada YS engines seem to be standard fayre although my MVVS 90 2-stroke and TT 91 F/S did seem to have the enough power for my level of flying. Fuel is generally 20% nitro for improved power but again at entry level, anything will do.

The competition flying finished about so we had the rest of the day for general flying. By this time the sun was out and the inviting blue sky was not to be missed. Bill Allison did a maiden flight with Gordon Frost's Flair Swallow and then gave a demo of low level flying and prop hanging with his own pattern ship.

The next day it was on the phone to Just Engines for some general advice, and to consider an order for a manifold and tuned pipe for the excelsior. And then some serious wife-pampering to get that Swallow & YS120 J

Then disaster stuck! The following Saturday I wrote-off the Excelsior, and as an encore, flipped the CAP over on take-off. Result – I missed the next event at Dumfries.

The third outing was to East Kilbride. I took the Glen's 68" CAP232 and a Travel Air with an Irvine 46. A clapped out Irvine 46 as it turned out as the main bearing was making more noise than the exhaust. Another disaster of a day where I ran into the long grass on take-off and damaged the wing mounting plate on the CAP, so the travel Air was called into service. Again, lots of advice, help, models to look at for ideas, and a generally great day out.

Before flying, I talked to the judge and my caller to tell them which manoeuvres I would be missing out, namely the double outside loop. Don't be put off by a 20-manouver schedule as you do not need to do them all.

So it was back home, order an Irvine 53 for the Travelair, and the YS for the Swallow. Then fire up the computer & get some simulator time to practice the manoeuvres.

The July event was at the CVF site and as I had flown there before I was really looking forward to it. The wife was packed off to some flower show down-south, and we were all set to go. However, the good old weather had other thoughts and the morning broke with low cloud, rain and blustery wind. By it was no better and a decision had to be made. The thought of a 40 mile drive just to sit in the rain for an hour then come back was not appealing, and I could feel the power of the dark side pulling – I could go sailing! Water from the sea or water from the sky – it doesn't matter. And boats like wind: the more the merrier. And the club has a nice warm clubhouse with cooker, toilets and showers. Sailing 1 Flying 0.

As it turned out, by mid-day the sun was splitting the sky, and I'm sure both sailors and flyers had a great day wherever they were.

August 14th brought the Nats and although I had managed some practice flying at my site, I was nowhere near ready for the Nats, so had to give them a body swerve.

October arrived and it was back to East Fortune for the final event of the year with the CAP232, the Travel Air and the Swallow. It was a beautiful blue sky for a great days flying. Total hilarity though when I gave my caller one schedule, and the scorekeeper a different one. Gordon Frost (15) did some great flying with his Acro-Wot as his Swallow was not being used that day. Lindsay Dickie was flying his Excelsior which was an upgrade from the OS70 Surpass powered Kyosho Majestic he had been flying the previous year. George Sherring was flying a 50inch wingspan electric model and is planning on an up rated version for 2005 and John de Pree from the East Fortune club turned up with his YS powered Swallow. At the time of writing one other potential beginner is making noises about competing so 2005 is shaping up to be a great year.

So did I come away a better pilot? I have to say "Yes" but there is lots of room for improvement. I certainly learned a lot, and can do a few manoeuvres I couldn't do before, and the ones I could do are done with more confidence and better precision. I saw some great flying and have some targets for next year. Come on guys – it isn't difficult so why not come along and have a bash?  You do need a little bit of discipline to arrive at a site 30 miles away at 9 in the morning, but the rewards are there for the taking. The standard of flying is amazing and the help and advice is given freely. But watch out – the bug bites.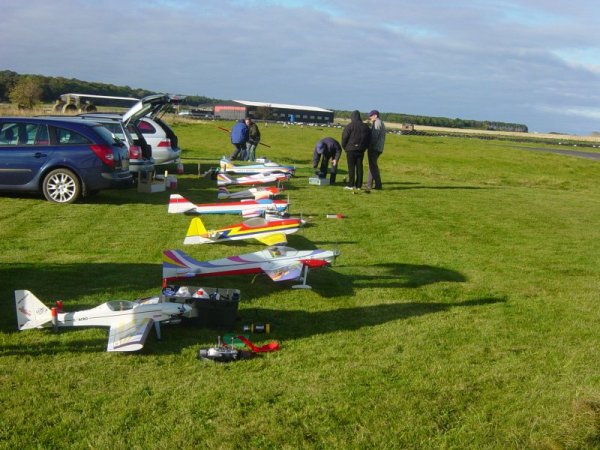 Some of the models at East Fortune, October 2004