Radio Control Model Aircraft Aerobatics in Scotland
Beginner's Guide

First, let me say that you have made a good choice.

If you have a Bronze and want to really improve, there is no better way than take part in the monthy radio control model aircraft aerobatic competitions throughout Scotland. You get better, you learn and you have a great time. When you get a minute why not check out my

Beginner's Diary - an account of my first year in radio control model aerobatics then have a read at Malcolm Harris' "Airtime" article.

WHO?
You :)
Radio control model aircraft

aerobatic competitions in Scotland are run by a Contest Director (CD) on behalf of the Scottish Aeromodellers Association. He agrees the dates and venues with the various clubs, arranges score-keepers, and collates the scores over each competition. Any flier with a bronze or equivallent can take part.

WHERE & When?
The competitions take part at various locations throughout Scotland. For instance this is the 2020 events list:
Day

Date

Where

Saturday

28th March

Drem

Saturday

18th April

Kinross

Saturday

16th

May

Glenrothes

Saturday

27th J

une

Angus

Saturday

218h Juy

Dumfries

Saturday

8th August

East Fortune

Saturday

5th Sept

Sept

Glenrothes

Saturday

14th

Oct

Drem

Visitors and newcommers are positively encouraged to come along. Chat, help & advice freely available.
I'm in a hurry - let me see the pix:

The CD will send out details of the Pilot's Briefing and 1-st flight times to give everyone ample time to arrive and get prepared. Three or 4 rounds are flown i.e. you get 3 or 4 flights depending on attendance levels, weather etc with each flight marked by the judges. One of the other pilots will act as a caller, giving you the next manouver in plenty of time. Lunchtime gives a chance for some relaxing flying and most comps are finished by about 3:30 / 4:00 PM
WHAT should I use?
We cannot say this enough - You do not need the latest & greatest composite cost-a-fortune model!!!!!. An Acro-Wot, Blackhorse Speed Air / Travel Air, Monolog 70 (really a 50-size model), Kyosho Majestic, Excelsior, Wind 50, Loaded Dice, Smart Move, etc will do everything you need to do to start with. You need to be slightly overpowered but nothing too wild but preferably quiet I have used the Travel Air with an Irvine 53, a CAP232 with a Laser 150, an MVVS90 powered Excelsior and a YS-120 powered Swallow which was awesome.
| | | |
| --- | --- | --- |
| | | |
| Glen's 68" CAP232 with Thunder Tiger 90 four-stroke - replaced with a Laser 150 :) | Dave Smith Excelsior with MVVS 90 2-stroke | Flair Swallow with Yamada 120 four-stroke and pipe |
| | | |
| YS160-powered Angel's Shadow | Electric Angel's Shadow | 2-metre electric Synergy |
My current favourites for entry level are ARTF contenders from Sebart; the Angel 50, Wind 50 and the Mythos 50, all availalble from Bill White at Dumfires Model Flying and the Acro wot from Chris Foss.
Wind 50: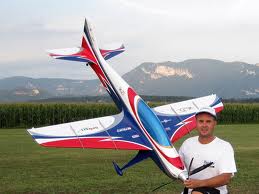 Mythos: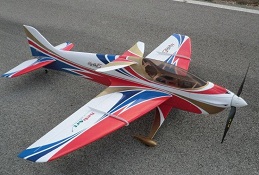 Reviews of the Wind and Mythos
My advice is to speak to existing aerobatic fliers to get the latest views on the current models as there are new ones appearing all the time.
HOW do I get involved?
You do not need a silver to do aerobatics and you will do a far better silver after a year of aerobatics. My view is the sooner you start, the sooner you will benifit. You need to see the standard to aim for and you'll only see that at the comps. Also, you will only learn by flying with people of that standard. The big difference from club flying is the intensity: it is one manouver on every pass, sometimes 2. All manouvers are either right in front of you - not when the model just happens to be in level flight. You can either fly Sportsman or Standard to start with and you can miss out the bits you don't want to do rather that wreck a model.
HOW much deos it cost?
Entry is £5 per competition, payable on the day but free if you are at your home club. Upgrading to the next model is relatively pain-free as there are always models appearing on the 2nd hand market.
ENGINES
At entry level anything does the job from a 46 upwards. 2011 / 2012 saw a huge transision with most pilots now being in the electric camp so any power plant will do. Don't be put off if you are just starting so come along for help & advice.
LINKS & MORE INFORMATION
Facebook: https://www.facebook.com/groups/733780607406350
Entry Level Clubman Demo: https://youtu.be/s-oIBxfGFe8
Intermediate Demo: https://youtu.be/7s7W2AE-CBo
The main UK web site for F3a and a great forum with lots of help, advice, for-sale
section etc
. Also contains call sheets, diagrams and some videos of the schedules.
"Getting Started in Aerobatics" by Malcolm Harris, Airtime Autumn Issue 2002
The aerobatic schedule diagrams are here http://www.gbrcaa.org/
ain}